Health is our primary duty in life!

---
Subsidies
Our varied range of proposals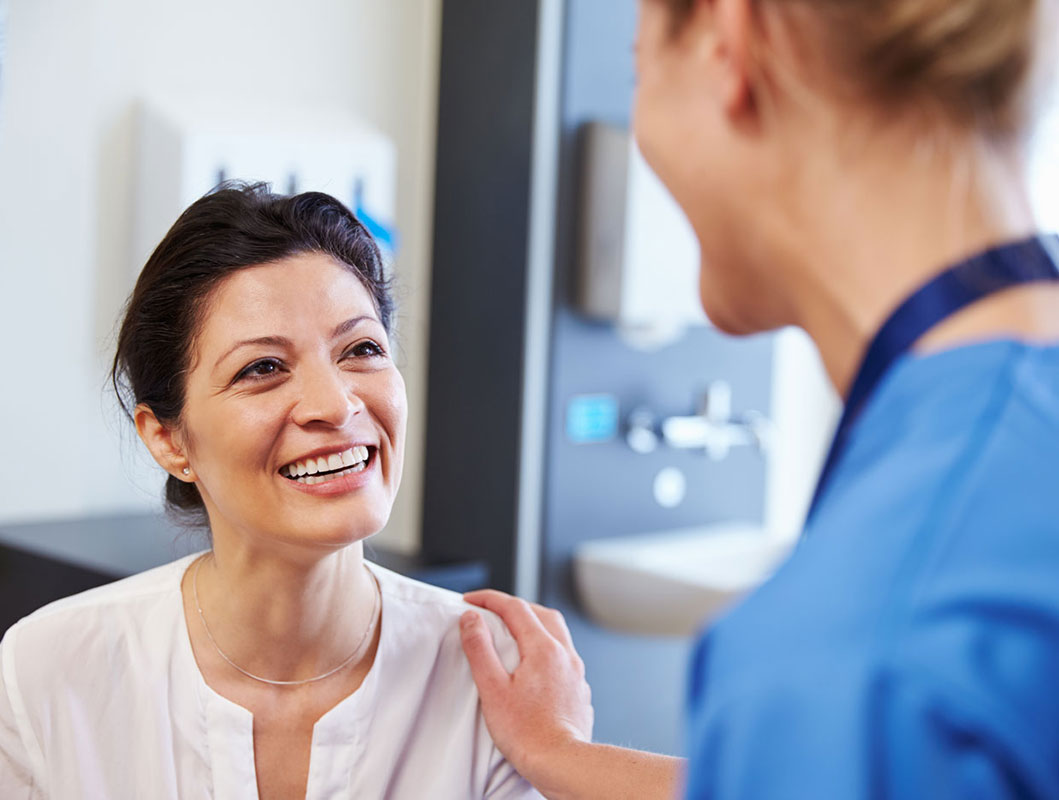 The following services are a part of our range of proposals:
Hospitalisation with or without surgery, also Day-Hospital
Large-scale surgical operations
Daily allowance for hospitalisation, convalescence and when incapacitated by plaster casts
Subsidies for death and permanent invalidity
Subsidies for lack of self-sufficiency (LTC)
High-level diagnostics - appointments with consultant physicians
Co-pay
Aid for stem cell preservation
Cancer check-ups
Cardiovascular check-ups
Food supplements and medical devices that are the result of research by the research company SBM – Science of Biology in Medicine (Respirell, Gadirel and Yttiogel), now produced and distributed by Health Pharma S.p.A.

More than8500
Facilities and health professionals

Approximately 400
Social Cooperatives

100000
Practices worked annually

---
Choice and quality
What characterises our mutual aid company is the breadth of recognised services though the subsidies designed to improve members' quality of life, guaranteeing privileged access to treatment and services, through the provision of various types of support for the family in the event of need.
MBA has studied subsidies that differ based on specific needs, that members can adhere to individually or as a family group, including civil partnerships and cohabitants.
There no age limits and no medical history questionnaire for gaining access to subsidies.
Every day, MBA works to improve the subsidies and services provided to members, in order to guarantee the best social-healthcare aid for them, paying the utmost attention to new treatments, also in light of progress in medical and scientific research.
For this reason, MBA firmly believes in prevention and for years now has emphasised the social importance of it as the only tool for guaranteeing better wellbeing, not just economic, for the public. MBA provides its members with innovative services, such as: Personalised check-ups, micro and self-diagnosis system, dental prevention, eyesight checks, subsidised access to stem cell preservation.
Important services available to MBA members are economic support in the event of large-scale surgery, periods spent in hospital with or without surgery, diagnostics and appointments with specialists, co-pay reimbursements.
Much attention is paid to social subsidiarity: By means of specific subsidies, Mutua MBA provides aid in the event of lack of self-sufficiency, invalidity and serious illnesses. It promotes a correct lifestyle and supports family growth and member loyalty services.

---
Mediated Mutuality
With its solid, stable and state-of-the-art corporate structure, Mutua MBA is an interlocutor for relations with other mutual aid companies, through the establishment of "Mediated Mutuality". Mediated management is based on the establishment of an association relationship between the receiving company (associated company) and another more structure mutual aid company with higher assets (associating company): due to the association relationship between the two companies, members of the associated company are beneficiaries of the services provided by the associating company.

To protect governance stability of the associated company and to protect the associating company's economic stability, the people who are beneficiaries of the associating company are not members of the latter: they can however take part in the mutual aid exchange of the associating company, limited to their own contributions paid.
Generally speaking, it is hoped that there will be joint-participation of the associated company in the technical progress of mediated management and, more specifically, in the decisions regarding realignment of the resources provided within suitable margins in the event of any deficit, or improvement in services in the event of management profit, and that all foreseeable risk variables are considered, the setting aside and use of reserves related to the members of the same associated company.
Mediated management is also recognised for managing additional healthcare funds.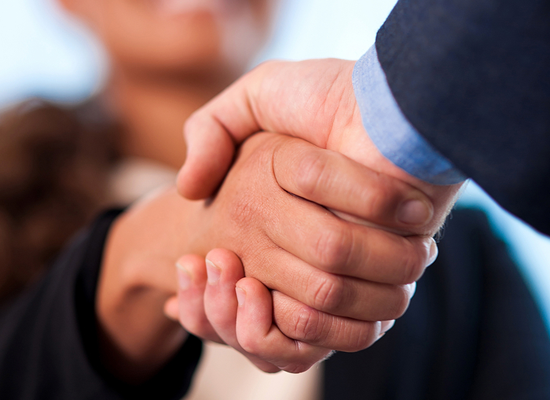 ---
The MBA card
For all our members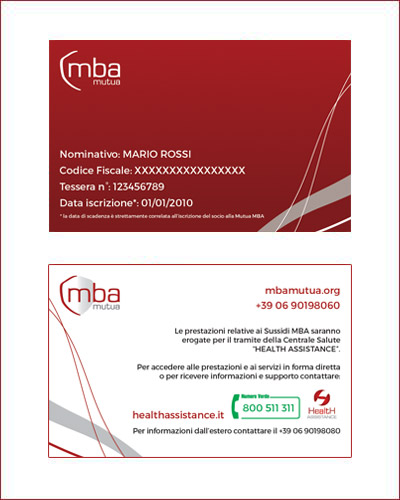 The MBA card is the true "member's ID card" through which it is possible to obtain important services for oneself and for one's family.

The Mutua MBA membership card is the union between the member and the mutual aid society itself: a tool, that recalls values such as belonging and utility at the same time.

The MBA card system makes use of an Operations Centre that answers calls to a freephone number 24 hours a day.
Our card will be sent to each member who expressly requests it, joining not just the basic subsidies but also several aid plans that MBA provides.
The services include the following services and aid:
access to the Health Assistance partner healthcare facilities;
medical first aid services;
support in emergencies;
information and bookings service;
telephone medical and specialist consultancy;
partner thermal spa tourism and health tourism holidays/stays;
preservation of stem and embryo cells.

---
MyMBA App
Convenient, fast and easy to use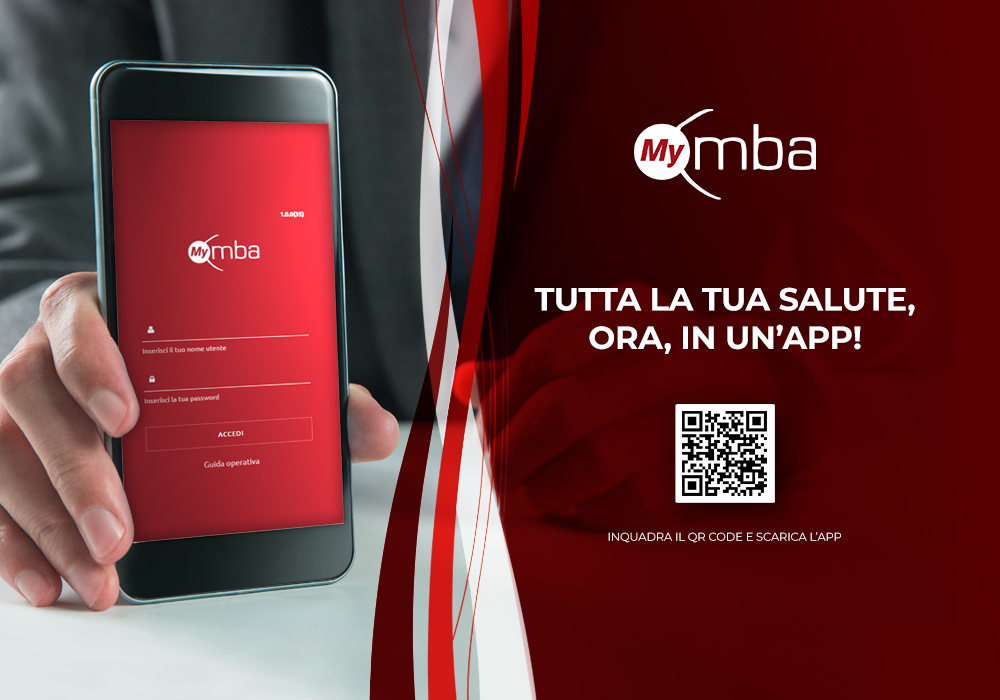 MyMBA is the app that Mutua MBA has designed for all its members, who can thus access the services offered by the mutual society directly from their smartphone or tablet quickly and easily. Through the app it is possible:
Submit a request for acceptance or reimbursement and check the status of the practices
Keep an eye on payments and installments
Contact the MBA back office and the Health Assistance offices
Access to forms and other communications
Consult the list of affiliated facilities throughout the country
Always have the membership card at hand, which allows you to take advantage of a discount of up to 35% on services in the affiliated facilities
Don't have MyMBA on your smartphone yet? Download it now, it's free

---
The Voice of MBA
The first blog about complementary healthcare
Stay up to date about the healthcare world, for discovering news, advantages and opportunities
---
VISIT THE BLOG

Contact MBA
By clicking on one of the buttons below, you will be able to contact us by filling out a short form, sending us a mail or calling us.