Are you looking for health coverage suited to your needs?
Mutua MBA offers a wide variety of supplementary health plans, for all ages and needs.
MUTUA MBA
TAILOR-MADE FOR YOU
Fill out the short form to be contacted by one of our health promoters.
Comprehensive health coverage

and assistance for you and your loved ones
Protecting your health is important, why wait any longer?
Help us to help you is not just a slogan, in complicated moments Mutua MBA remains alongside its members, with lloyalty, helping them to find solutions for themselves and their family. A network of consultants is available to guide the member in choosing the best health plan to protect their health and provide immediate access to care.
The main guarantees for you and your family
With the health plan you will have access to numerous guarantees regarding hospital admissions, surgeries, medical visits and checkups.
The German Institute for Quality and Finance (ITQF) is a European leader in quality tests and seals and conducts market research aimed at analyzing the economic and qualitative aspect of companies in various sectors, including banking, insurance and utilities.

It makes use of qualified researchers and partners, statistical centers and universities with the highest scientific standards. Through this recognition, Mutua MBA intends to demonstrate its excellence and passion for every activity carried out for its members, renewing their trust on a daily basis.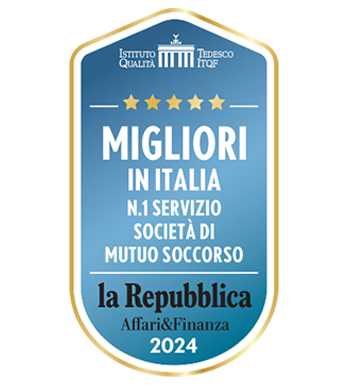 It is important to know that...
Almost 15 million Italians benefit from a form of supplementary healthcare.
Supplementary healthcare is a a form of protection that allows you to integrate and/or replace public services in the context of medical-health service. It can be stipulated independently, be part of the benefit that each company makes available to its employees or fall within the rights increasingly provided for by the National Collective Labor Agreements (CCNL), the Supplementary Company Contracts and the regulations of the various Professional Registers.
Discounted rates guaranteed for your health!
Savings of up to 35% for you, even for services not included in your health plan, in all affiliated facilities.